Huntington Beach Stained Concrete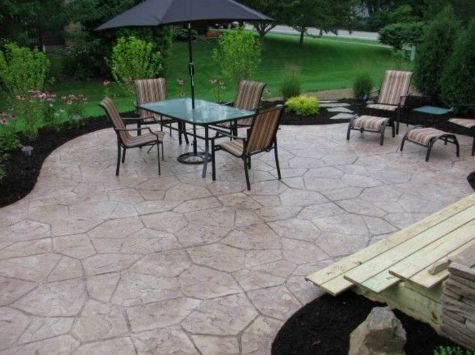 Stained concrete, which is also known to induce colorful effects like colored concrete, is different from it in many ways. While colored concrete surfaces are easy to prepare, stained concrete surface needs expert supervision while adding acids or acrylics to achieve the required staining effects.
Top of the Line Stained Concrete Contractors
Over the years, our stained concrete experts at Huntington Beach Concrete Pros have helped many property owners in achieving those luminous looks and translucent shades they have wanted for their surfaces. If you are also looking for an out of the ordinary finish, get in touch with us at (714) 942-4406.
Huntington Beach Concrete Pros
Stained concrete surfaces are basically of two types, acid-based and water-based. And as mentioned earlier, adding acids or acrylics in the right proportions plays an important role while preparing these surfaces. Both these methods can be used on new as well as existing old surfaces to bring them to life.
Acid and acrylic stains can penetrate deep into the surface producing shades that are not only attractive but also durable. They exhibit excellent resistance to UV rays and also have superior weather resistance compared to colored concrete surfaces. This is the reason why stained concrete can be equally used for both interior and exterior beautifications of your property.
Stained Concrete – General Applications
Depending on the kind of look you want to generate for your property and of course, your budget limitations, you choose to use stained concrete for:
Floors and walls
Walkways and pavers
Patios and driveways
Fireplaces and
Kitchen countertops, etc
Stained Concrete – Acid Based
Most of the acid-based stained concrete surfaces are a result of the mixture of water, acids, and metallic salts. Once applied, the mixture penetrates the concrete surface and starts reacting with the lime in the mortar thus producing permanent stains. Colors and shades thus obtained are permanent and do not fade or chip off. However, acid-based stained concrete finishes can only produce earthly tones such as tan, brown, brownish grey, soft-blue, and terra cottas among others.
Stained Concrete – Water Based
If you want to give your surfaces to have a more colorful and vibrant look, the water-based stained concrete finish is what you want. Water-based stains are available in a wider spectrum of colors including metallic stints. Though the procedure in which the stains are created in this method is similar to the acid-based method, the resulting stains are much more translucent and opaque.
Whichever method you choose, please keep in mind that stained concrete pavers surfaces can only produce great results when handled by the right professionals. For more information regarding stained concrete surfaces and how our professional can help you on your project, call us on (714) 942-4406 now!